Partner Place for Convert OST PST Utility
It's a start up place for creating a huge association for wide varieties of vendors & resellers. Join our partner network to extend the online business opportunities. We provide a partner place for the product named Convert OST PST Tool. Join the resource hub right now! Join Us Under Multiple Partner Categories as the huge platform is waiting for you, so what are you waiting for?
Contact Us to Get Started with Convert OST PST Platform!
Supported Versions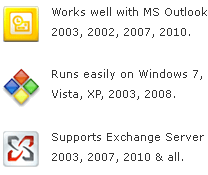 Pre-Requirements