Convert OST To A PST - A Simple Way For Accessing OST File !
When users globally look forth to convert OST to A PST, OST converter software grabs attention quickly. There are many complied reasons for making OST files corrupt which makes OST files damaged and inaccessible resultantly. Users rely on the functionalities of this tool because of easiness and simple to perform steps. Tool has not reported a single issue till date after its arrival in the online market place.
Problems with Exchange Mailbox:
Suppose you fail in your attempt to synchronize your Exchange mailbox, tasks, mails, tasks etc along with data on Exchange, make it a point that Outlook cache is damaged. For verification of data on Exchange, you can use OWA or Outlook Web Access. This actionable solution would help to resynchronize Exchange data and rebuild Outlook cache.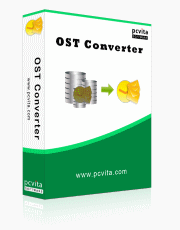 Starting @ 49 usd
Process to Remove Outlook Cache from PC and Rebuilding it (Manually) !
Point to Remember: Close Outlook before following this process further. Later turn off Cached Exchange Mode
Primarily, Click on 'Start' then go to 'Control Panel' and lastly to 'Mail'
After this, press 'Show Profiles' button. Do highlight the profile using for Exchange email
Go to 'Properties'
Next, Press 'Email Accounts', highlight MS Exchange account then press 'Change'
Do not forget to uncheck the box saying 'Use Cached Exchange Mode'
Go to 'Next'
Then press 'Finish'
Proceed with the process to delete OST files mentioned in the hard drive
In the order of the steps, comes the need to start 'Menu' for searching files as well as folders
Enter '.ost' for searching and locating.ost files on your PC
Make a deletion to entire.ost files you let know from searching process

You can obtain this file by default in the following location mentioned below:
Windows 7: C:\Users\username\AppData\Local\Microsoft\Outlook
Windows Vista: C:\User\user name\Local Settings\Application Data\Microsoft\Outlook
Windows XP: C:\Documents and Settings\user\Local Settings\Application Data\Microsoft\Outlook
After rebuilding Outlook in cache mode, convert OST to a PST, then import PST in MS Outlook.
Benefits with our professional Solution: After following the above mentioned manual solution there is no surety that you get successful results. Instead of using this process, our recommendation is to use our OST to PST converter software which definitely convert OST to PST file format. Our tool offers you cost-effectiveness and easiness together.
Download Software for Free: Download convert OST to PST software for free which primarily scans damaged OST files then gives preview of recovered OST files.
Full Version-Achieve Mission to Save Data Affordably !
After obtaining the process to convert OST to a PST in free software demo, buy tool in complete operable mode because that makes you save recovered OST data in file format you required amongst PST, EML and MSG.
Supported Versions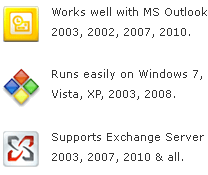 Pre-Requirements